Frequently pay at the pump?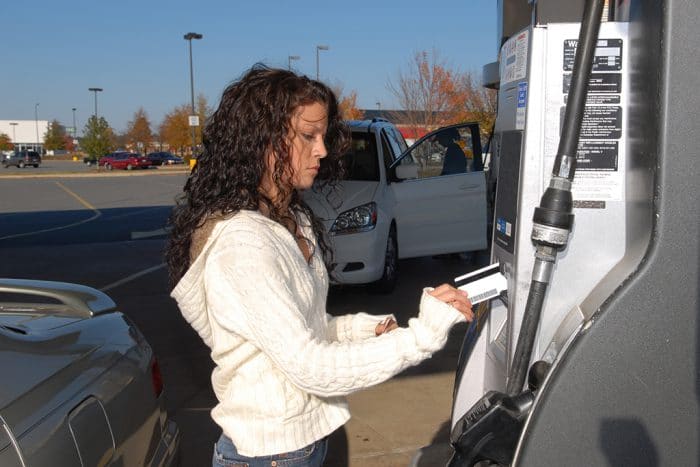 How to protect yourself from skimming, a type of fraud that's on the rise.
A credit card skimmer is a malicious device criminals attach to a payment terminal. When a credit or debit card is swiped through a skimmer, the device captures and stores all the details stored in the card's magnetic stripe.
Gas pumps are particularly attractive to thieves using skimmers because their low visibility to personnel makes it fairly easy for crooks to install and retrieve a skimming device. There's also a high volume of traffic at the pump −37 million Americans refuel every day, and 29 million of them pay with a credit or debit card. In addition, most gas stations still require customers to swipe their cards even if they have chip readers. Gas stations have until October 2020 to begin using chip card readers.
On the bright side, there are some steps you can take to protect yourself from skimming:
Inspect the card reader and the area near the PIN pad.
If you think the scanning device doesn't look like it matches the machine's color and style, it might be a skimmer. Most of the time, skimming only occurs at one gas pump at a time at the station you are using, so look at the pump next to yours to see if the card reader and setup look different. If they do, you may have spotted a skimmer. Let the merchant know.
In addition, pay attention to the security seal across the fuel dispenser door. To place a skimmer inside a fuel pump, fraudsters must open the fuel dispenser door to insert the skimmer. So if the seal is broken, torn, peeled back or flaring at the edges, do not proceed with the transaction and notify the merchant right away.
Avoid using your PIN.
When given the option to use your card as credit or debit, it's best to choose the credit option. That way you're not entering your PIN in sight of a possible card skimmer camera.
Use your phone to help you!
Yes, use your phone. Android users can download a Skimmer Scanner to detect the presence of a skimmer. The app is free and easy to use. You can also check your Bluetooth settings before fueling up. Because many skimmers now use Bluetooth for harvesting stolen data, your phone should be able to detect them. Before you fuel up, go to your phone's settings, hit Bluetooth and make sure it is turned on. Under "devices," if you see a long string of numbers and letters trying to connect, it could be a sign a skimmer nearby.
Consider going inside to pay.
While paying inside is not as convenient, there is less chance a fraudster placed a card skimmer on the payment terminal in front of the clerk.
Keep an eye on your accounts.
Have a regularly scheduled time, like every week, when you look over your bank and credit card statements for anything out of the ordinary.