Jerry Price named 2017 Hebron Difference Maker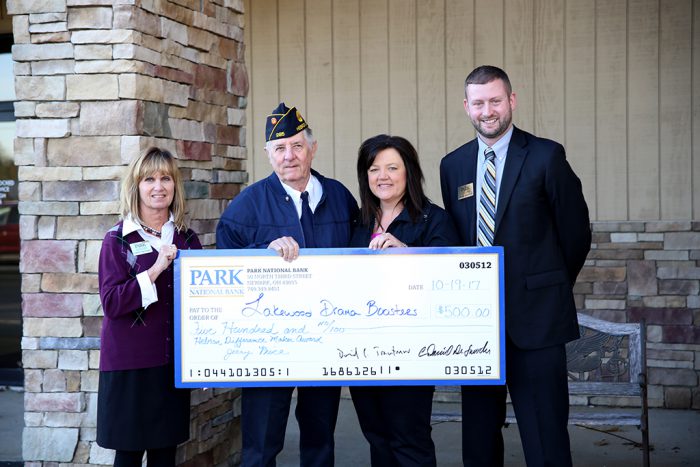 October 20, 2017
Jerry Price (second from left) made a $500 donation to the Lakewood High School Drama Boosters as part of his Park National Bank Hebron Difference Maker Award. Park retail operations manager Janet Springer (left) and Hebron banking office manager Cody Smailes (right) honor Price alongside his daughter, Mindy Kester.
Longtime local serves his country, community proudly
NEWARK, Ohio – Jerry Price learned how to fix things and never say no to those who need a helping hand. The combination has meant Hebron's widows, veterans, seniors, poor and hungry have had a champion in their corner for decades. For Price's selfless sacrifices, The Park National Bank (Park) has honored him as the 2017 Hebron Community Difference Maker.
The award was presented during a celebration breakfast October 19 at Hebron New Life Church, where Bob Lawrence won a special raffle and selected the Licking County Alcoholism Prevention Program to receive $200 from Park. Price chose to send the $500 donation as part of his recognition to the Lakewood Drama Boosters.
After graduating from Lakewood High School, Price served in the U.S. Army and was stationed in Germany until his discharge in 1967. He then worked in a civilian role for 20 years at the former Newark Air Force Base in Heath. As a lifetime member of the American Legion Post 285, Price served as its commander for eight years and put his skills to good use. When veterans or their widows needed their homes repaired, whether it was plumbing, electrical, leaks, painting and more, Price always said yes and often provided the parts and labor at no charge.
Price doesn't wait for people to ask for help. He has been known to pick up food at the local pantry, cook and serve the meal and stay to clean up. He also supports a program that provides backpacks of food and toiletries to children to help them get through the weekends – when school breakfasts and lunches aren't available.
Price, a father of three who was born and raised in Hebron, owned a local butcher shop for four years. As Hebron local Mike McFarland, who nominated Price for the Difference Maker Award, wrote, "Anyone who knows him suspects that more than a few cuts of meat were given to those who needed a meal but could not afford it. He's always been that kind of guy. There are not many people who would sacrifice their time and treasure as he has."
Park sought nominations from community members to identify the neighbors who go the extra mile to make a positive difference in other's lives and in Hebron. Past winners include Beth Walters, Tim Ryan, Sue Kneller and Margaret "Bickie" Walters.
"Jerry's service to our country is inspiring. What he does for our community makes him extraordinary," said Cody Smailes, manager of Park's Hebron banking office. "It's an honor to recognize such a giving, caring person. He has helped many people and touched countless lives."