Your community is our community.
Our bankers care about helping our entire community thrive and prosper.
Yes, our approach to doing business has earned us a reputation as a bank you can depend on, but our commitment to you goes beyond financial services.
Our clients count on us to support the people and organizations working to build and care for our communities. Our culture is deeply rooted in the values of service and philanthropy, and we believe strong communities are built with local volunteers, donations and leadership.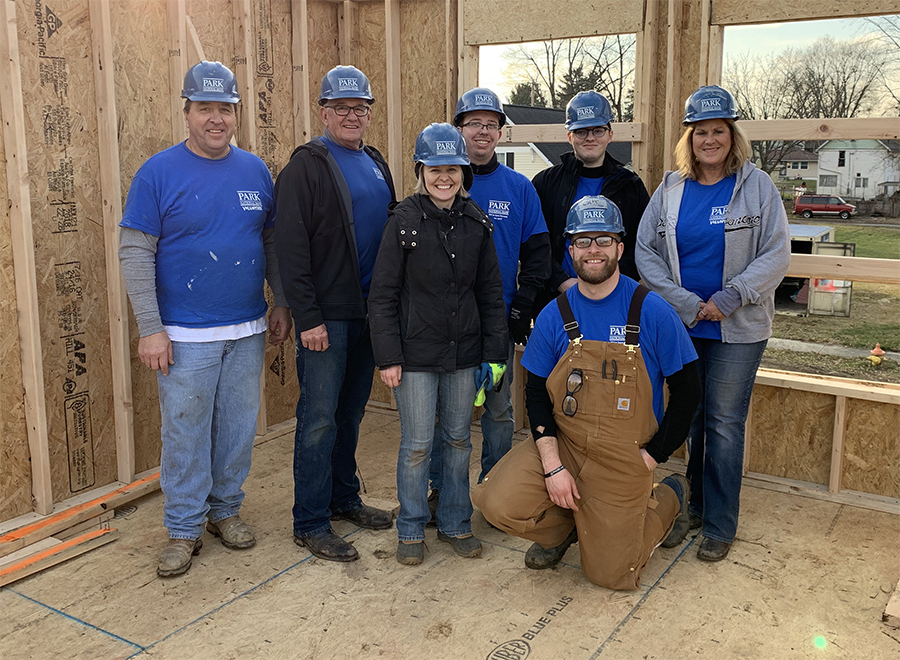 We are proud of the time, energy and compassion our associates dedicate by volunteering for many local non-profit organizations each year.
From sponsoring a basketball scoreboard, to tutoring elementary school students, to raising funds for the United Way or serving as board members on local committees, you'll find us involved in every aspect of the areas we serve.
Community Involvement
These are just some of the many ways we're active in our community. It's an honor to work alongside our friends and neighbors.
Park helps build its sixth Habitat for Humanity home
Along with a slew of volunteers, Park National Bank finished another Habitat for Humanity-MidOhio home. The build began in October and was presented to the family at a recent dedication.
Since 2013, Park has helped six families of seven adults and 12 children move into new homes, investing $225,000 in the efforts.
Park's jeans days make for a great Christmas Day
Wearing jeans on Fridays is more than just a company perk. It's an opportunity to bring huge smiles to Licking County children on Christmas.
Our associates put money in a charity fund for the option of wearing jeans once a month throughout the year. Some of that money finds its way to Amy Adams in our treasury department, who works with Big Brothers Big Sisters (BBBS) Licking and Perry Counties during its Holiday Help campaign.
PNB Cares 2018
PNB Cares is an annual volunteer initiative that serves non-profit organizations in Licking and Franklin counties. During the two-week event, bank associates from every department spend four hours of their regular workday in service to community organizations. Over 15,000 volunteer hours have been donated over 9 years throughout Licking and Franklin counties. This year is no exception, we just finished up this year's effort and support 36 organizations.
Difference Maker Award
The Difference Maker Award was introduced in 2006 to celebrate those who are passionate about making a difference in their community through a volunteer project, extraordinary leadership or an outstanding contribution to the community. In 2018, Park recognized a Difference Maker in Utica, Hebron, Pataskala, Licking Valley, Freedom Years and Johnstown.
Community Donations
Park National Bank is delighted to be able to say "yes" to many requests we get for donations, sponsorships, volunteers and other contributions that support our communities. We strongly believe in investing our money locally and doing everything in our power to support the people and groups in our neighborhoods.
Make a Request