Now it's even easier to get it done on the run.
You asked. We're delivering. You now have access to an improved online banking portal that better matches our popular mobile banking app (it got updated, too). You now have easier access to enhanced features and services, plus a new and improved design.
Enhanced alert accounts
We'll continue to notify you about important account activity, like when your password or email address is changed. Now, you can also choose from an extensive list of alerts for debit card transactions and account activity.
Credit sense
Monitor your credit score and review your credit history.
Improved convenience
Open another deposit account from within online banking. Place a check order within online banking.
Financial manager
This is a robust tool with many options to give you an overview of your complete financial picture. You can categorize transactions, set savings goals, build a budget, see charts, create spending reports, view an income statement, and monitor your cash flow. You can also pull in data from other financial institutions and wealth management firms.
Enhanced security
We'll periodically verify your identity as an extra layer of security – and you can choose how we do it! If you choose a text message or phone call, you'll be given a security code to enter into online banking. If you choose additional security questions, we'll ask you 3 questions you previously answered.
More transfer options
We have lots of ways for you to move money, between accounts, between banks, and between people. Now you can quickly make a transfer to another Park customer's account, all you need is the account number. Example uses: Reimbursing a neighbor, getting money to your college student.
Unlock your account
If you forget your password, you can now reset it yourself by completing a short form to verify your identity.
Easy digital payments
Zelle® is a fast, safe, and easy way to send and receive money with friends, family and others you trust with a bank account in the U.S. Plus, it's free at Park National. When you use Zelle within our mobile app and online banking, your information is protected with the same technology we use to keep your account and personal information safe.
Change contact details
You can use a secure form to update your profile and contact information. Changing an address, phone number, or email address only takes a minute!
Zelle and the Zelle related marks are wholly owned by Early Warning Services, LLC and are used herein under license.
New login screen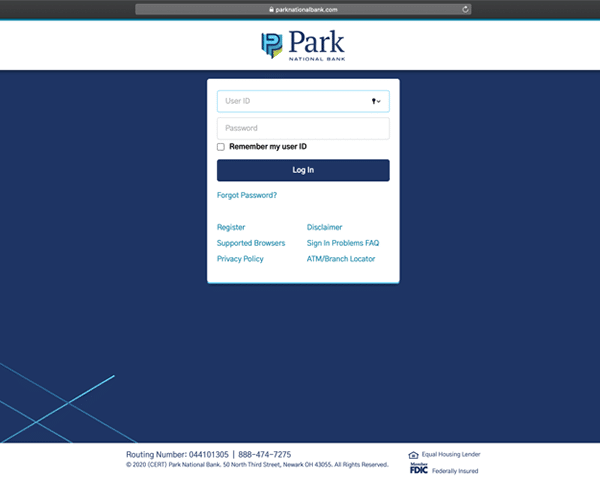 Overview of account details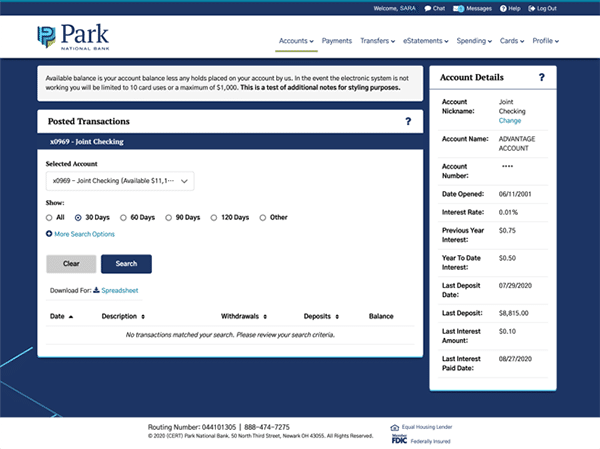 Transfer activity screen