C. Daniel DeLawder awarded Ohio banking industry's highest recognition: John G. McCoy Pioneer in Banking Award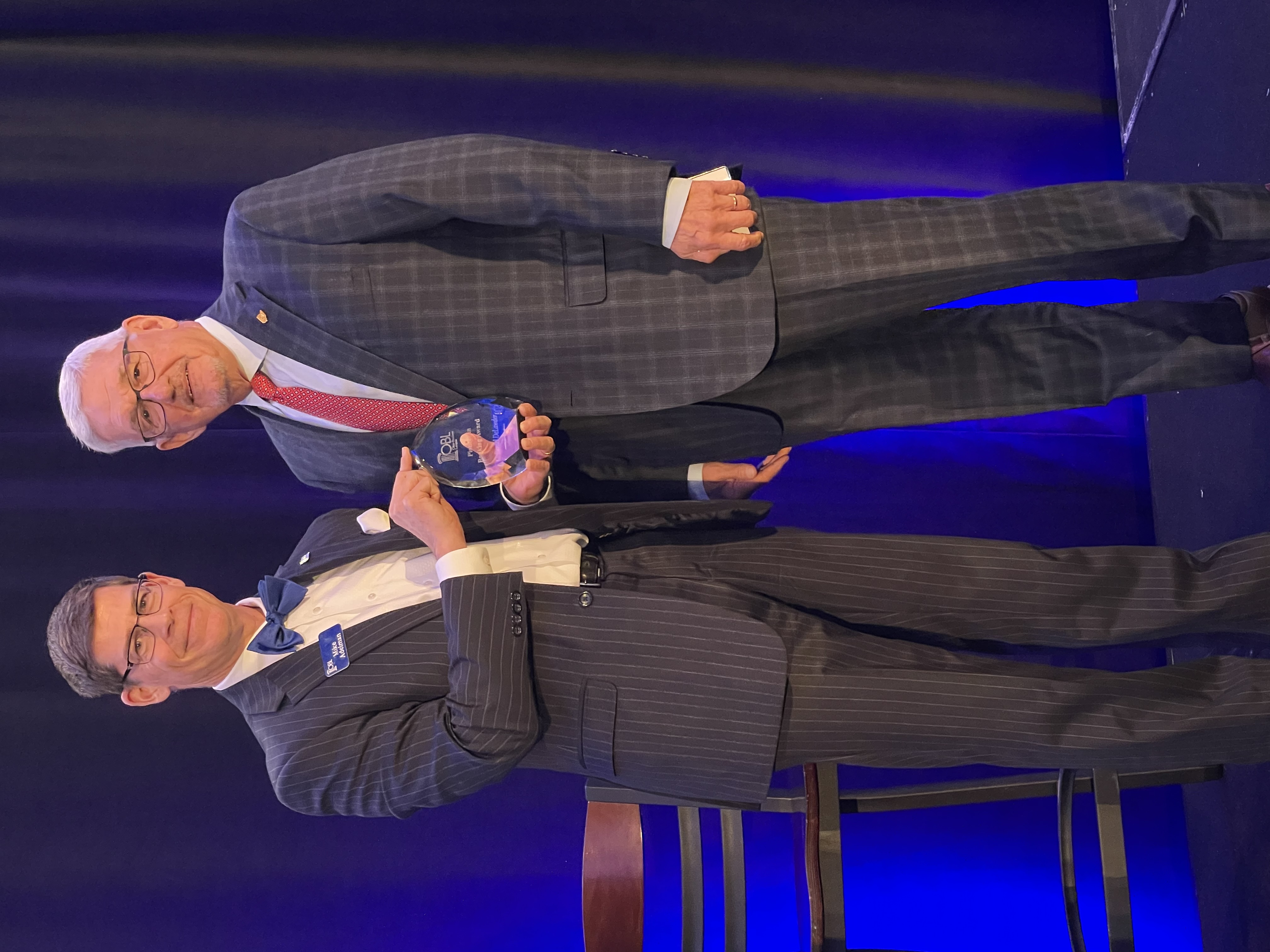 At this year's Ohio Bankers League Annual Meeting, C. Daniel (Dan) DeLawder was awarded the John G. McCoy Pioneer in Banking Award for his significant contributions to the banking industry and the community. This award is the highest recognition in the Ohio banking industry and recognizes the best of the best in the field. Previous recipients include former Park National Bank Chairman and CEO Bill McConnell in 2010; the OBL's own Mike Van Buskirk in 2013; and former Park National Bank board member Jim DeRoberts in 2018.
"The Ohio Bankers League is proud to honor Dan DeLawder with the Pioneer in Banking Award," said Michael Adelman, president and CEO of the Ohio Bankers League. "Dan has been truly that, a pioneer for the industry and for his own organization. He has been influential to many and has paved the way for others to be successful. His accomplishments with Park National Bank and Park National Corporation make him more than worthy to receive this prestigious award."
"Park National Bank is humbled to have two past CEOs and a former board member recognized with the John G. McCoy Pioneer in Banking Award – the inaugural winner, Bill McConnell, Jim DeRoberts and this year's recipient, Dan DeLawder. These superb leaders helped shape our organization, and we are profoundly grateful for their leadership at the bank, in our communities and with the Ohio Bankers League," said David Trautman, Park National Bank chairman and CEO.
DeLawder's professional career was exclusively with Park National. In June of 2021 he retired as an executive officer of the bank and continues as member of its board of directors, chair of the executive committee and chair of the trust committee. For over 50 years, DeLawder was instrumental in leading Park through multiple expansions, acquisitions and organic growth – interesting when you consider he had no aspirations to be a banker. As a young man, he studied to be a teacher. A chance meeting led DeLawder to work at Park. He approached his unexpected journey as he has everything – with exhaustive planning, unbounded energy and a sense of duty carried forward from his days as an Eagle Scout.
DeLawder has served communities for decades, as a board member of numerous organizations including the Simon Kenton Council of Boy Scouts of America; The Works, Ohio Center for History, Art and Technology; Newark Development Partners; Salvation Army; Lancaster and Newark Rotary Clubs; and Chambers of Commerce in Fairfield and Licking counties, providing leadership and perspective in each role. He chaired a major community fundraising project in support of the John and Mary Alford Center for Science and Technology located at the Newark Campus for The Ohio State University and Central Ohio Technical College. DeLawder served nine years as a trustee of Ohio University, the last two of which he served as chairman. He also served six years as a board member of the Federal Reserve Bank of Cleveland and was a board member and chair of the Ohio Bankers League.